On 26-28 March, ELASTIC researchers showcased the project's technology at the DATE 2019 conference, which took place in Florence, Italy. ELASTIC had a joint booth with CLASS project, as part of DATE's thought-provoking exhibition. The joint booth was kept busy as visitors from different backgrounds were eager to learn about the project's aims and real-life applications.
The name of the booth was "A Software Architecture for Extreme-Scale Big-Data Analytics in Fog Computing Ecosystems" and the aim was to show ELASTIC's novel software architecture to distribute resources from edge to cloud. The experts showed how that the software includes the development of a new concept of elasticity, ensuring smooth performance across the compute continuum in an innovative fog-computing environment.
Researcher Maria A. Serrano, based at the Barcelona Supercomputing Center (BSC), was one of the ELASTIC and CLASS researchers that were present at the event. "It was a pleasure to welcome so many visitors to our booth at DATE 2019 and to be able to showcase our technology with a live demonstration and videos. This was a great opportunity to interact with people in the field while presenting our research and receiving useful feedback".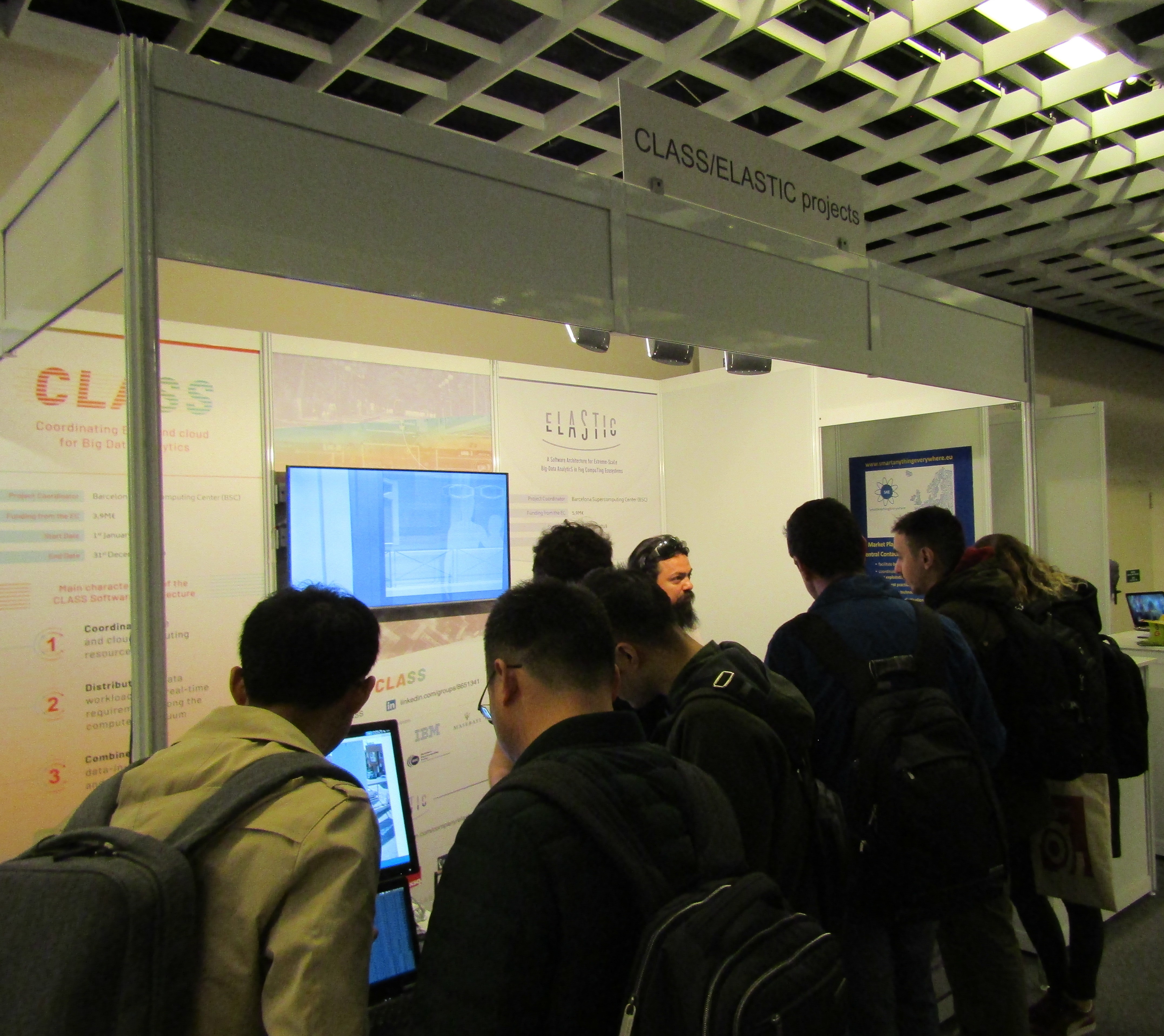 Visitors were informed about ELASTIC's smart-mobility use case, which deploys a sensor network to collect the data from the tram network of Florence, Italy. The trams will feature advanced embedded architectures, V21 connectivity, heterogeneous sensors and access to cloud resources, improving public/private transport interaction and allowing the creation of advanced driving assistance applications.
About the event
The DATE conference combines the world's favorite electronic systems design and test conference with an international exhibition for electronic design, automation and test, from system-level hardware and software implementation right down to integrated circuit design. Out of a total of 834 paper submissions received this year, a large share (38%) is coming from authors in Europe, 28% of submissions are from the Americas, 33% from Asia, and 1% from the rest of the world. This distribution demonstrates DATE's international character, global reach and impact.