Big data is nowadays being integrated in systems requiring to process a vast amount of information from (geographically) distributed data sources, while fulfilling the non-functional properties (real-time, energy-efficiency, communication quality and security) inherited from the domain in which analytics are applied. Examples include smart cities or smart manufacturing domains. ELASTIC is developing a novel software architecture to help system designers to address this challenge.
ELASTIC's software architecture is integrating the most advanced information and communications technologies (ICTs) from multiple computing domains into a single development framework. This technology will enable the design, implementation and efficient execution of extreme-scale big-data analytics. To achieve this goal, it will incorporate a new elasticity concept across the compute continuum, with the objective of providing the level of performance needed to process the envisioned volume and velocity of data from geographically dispersed sources at an affordable development cost, whilst guaranteeing the fulfilment of the non-functional properties inherited from the system domain.
The figure below shows a schematic view of the ELASTIC software architecture stack and the set of layers to be integrated.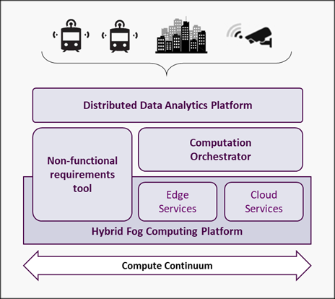 The description of the different layers integrated into the ELASTIC software architecture are listed below. All software components have been added to the dedicated ELASTIC GitLab repository.